2019 AmCham Thanksgiving Charity Dinner
Hosted in Hotel Continental's elegant Teatersalen, and along with Thanksgiving partners ExxonMobil and Biogen, this year's fully booked AmCham Thanksgiving Charity Dinner raised NOK 92 900 to help build a home for the Guzman Family of El Salvador through charitable partner New Story.
Hotel Continental offered attendees a refined, yet inspired take on Thanksgiving fare, artfully blending traditional classics with new favorites to rave reviews, leading one American guest to remark, "I might get in trouble for saying this, but I have to admit this food is better than back home." The buffet was accompanied by California wines from Fetzer and Bonterra Organic Vineyards.
The dinner featured keynote speeches from ExxonMobil Lead Country Manager for Norway and Azerbaijan Jan Åge Hansen and Norwegian Minister of Defense Frank Bakke-Jensen.
With ExxonMobil recently announcing the sale of their Norwegian upstream assets to Vår Energi, Hansen's speech looked back upon ExxonMobil's storied history on the Norwegian Continental Shelf. "With this, we are closing a chapter in Norway, a chapter marked by extensive cooperation that saw Norwegian competence and technology exported around the world," he recounted.
Hansen then looked to the future of the energy industry in Norway and globally. "Clearly, the energy industry is changing. The industry will play a key role in addressing the challenges the world is facing, and in order to reach a new, greener, and more sustainable future, we will need to draw upon the very same spirit of cooperation that made the Norwegian oil and gas adventure such a success," he concluded.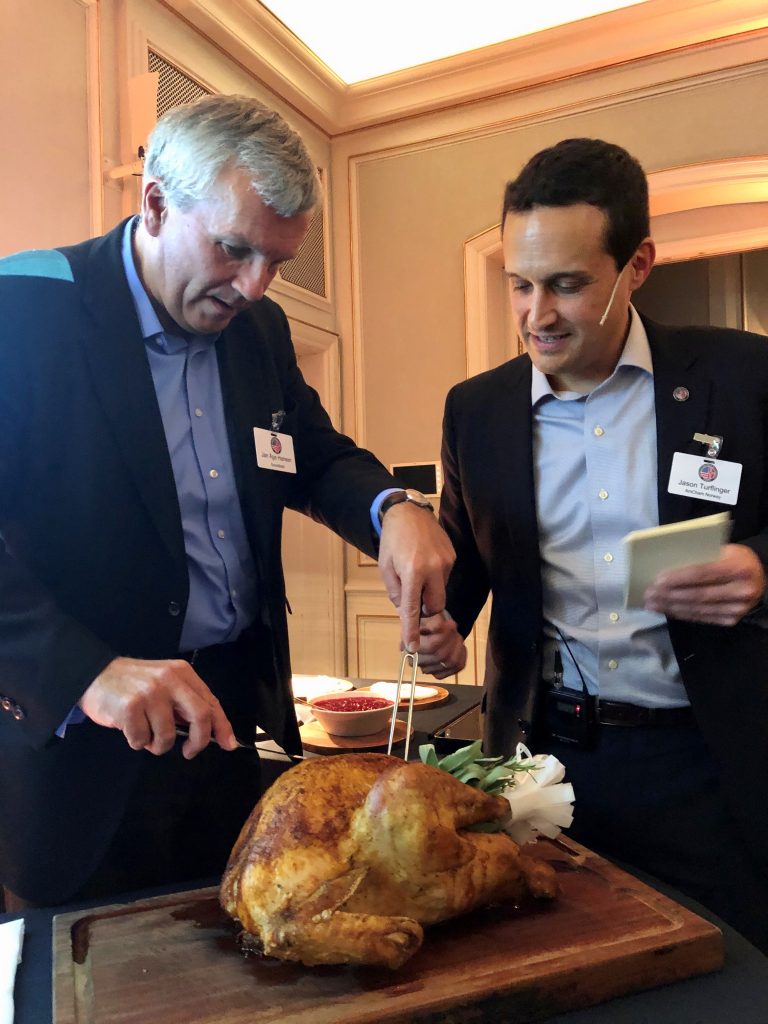 Recently returned from a Washington meeting with US Secretary of Defense Mark Esper, Minister of Defense Bakke-Jensen spoke to dinner guests about the common values shared between the United States and Norway – as well as the importance of sharing gratitude with those around you.
"Sharing gratitude is an American tradition that we in Norway can benefit from. Though, if we imported the holiday to my part of Norway, we'd have to substitute the turkey for reindeer," he noted after highlighting Norway's increased military cooperation with the US.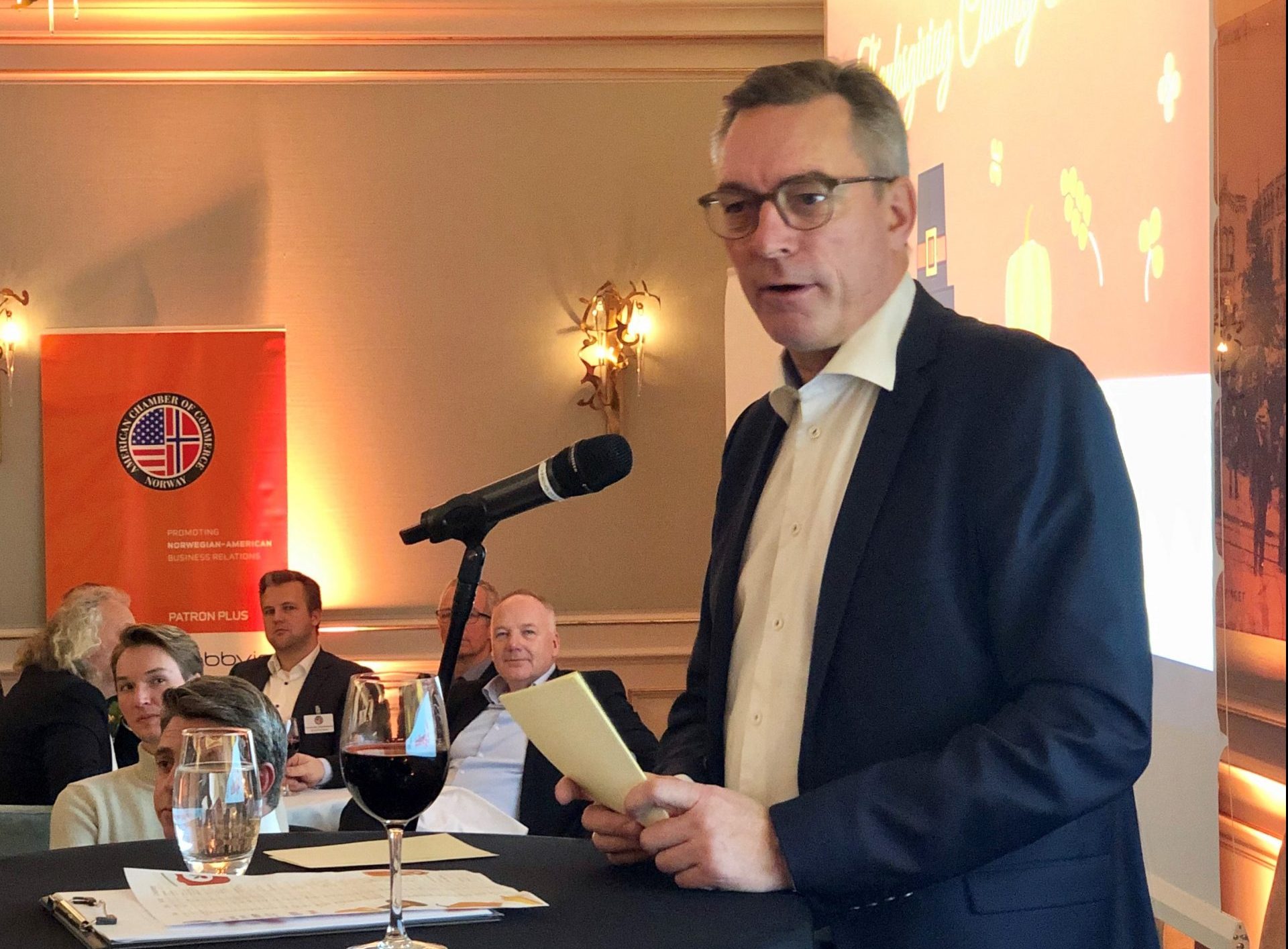 After the conclusion of dinner, the charity raffle and auction began. Attendees competed for over 20 unique prizes – ranging from art from American photographer Edward Sheriff Curtis to an Icelandair flight voucher to the US.
With the prizes dealt out, AmCham Managing Director Jason Turflinger then announced that this year's auction and raffle had raised a record-breaking amount.
In a video message to dinner attendees, New Story Co-Founder Brett Hagler stated that "I just want to say thank you for myself and our whole team for choosing to partner with us – we look forward to sharing all the good that comes from generosity tonight." Be sure to check out Hagler's message to dinner guests below!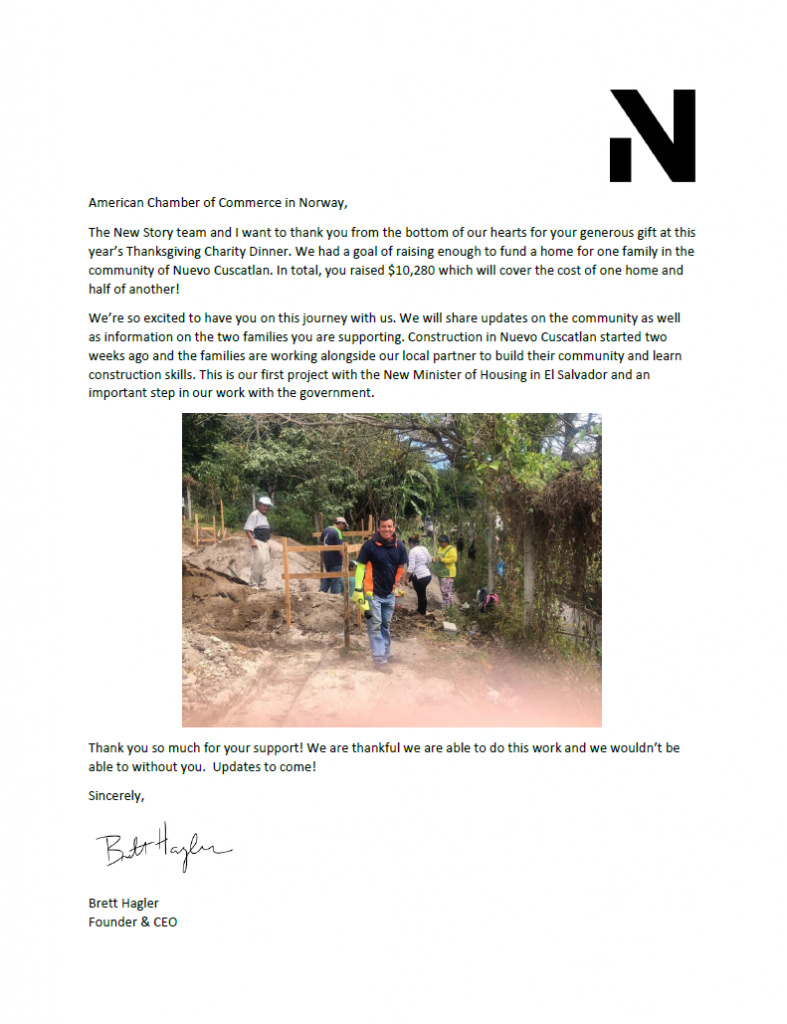 In addition to ExxonMobil and Biogen, AmCham also thanks AIG, Norsk Hydro, International Corporate Art, Featuring Spaces, Radisson Hotel Group, WeWork, Raise Group, Tesla, Polaris Inc., Nancy Bundt, Hotel Continental, Icelandair, Avinor, VisitOSLO, Johnny Rockets, Starbucks Norway, Xperium , Novelty Food, Google, Discovery, Kygo, Rob.Arnesen, The Viking Planet, Cinemateket, and VCT Norway for their generous dinner contributions!