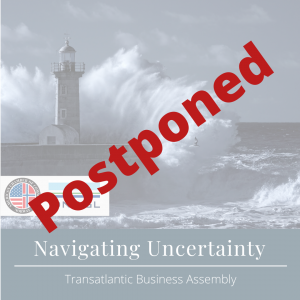 In light of recent COVID-19 developments impacting us all, we have elected to postpone our March 16th Transatlantic Business Assembly until such time as deemed prudent for a large gathering of our international member representatives. This is a first for AmCham, and the decision has not been taken lightly. We and hosts DNV GL regret any inconveniences that this may cause.
Apart from US Ambassador Braithwaite, who will likely depart Norway prior to our eventual new Assembly date, all guest speakers have confirmed their eagerness to join once rescheduled.
AmCham's 15:00 Annual General Meeting will, however, take place as scheduled – though via Webex. Members and partners can contact us at amcham@amcham.no for meeting information and to register.
This condensed AGM agenda is expected to be concluded by 15:45. Members and partners must let us know if they plan to join by COB Wednesday, after which meeting materials and Webex login details will be shared.
Many thanks for your understanding, and please do not hesitate to contact us for anything further.