AmCham Sustainability Forum: The Role of Business in Building Collaborative Solutions
AmCham Sustainability Forum participants gathered digitally for the latest edition of the forum, with Gard Special Adviser Kim Jefferies and Høyre Political Advisor Daniel Skjevik-Aasberg joining to address building collaborative sustainability solutions with the public sector, international institutions, youth, and environmental organizations.
Make It a Part of the Job – and Consider it a Part of Everyone's Job
Jefferies, an American transplant who has played a critical role in Gard's work with the UN Global Compact Action Platform for Sustainable Ocean Business, opened up the session by highlighting Gard's sustainability work – both at the international and local levels.
Jefferies offered participants insights based on years of experience, including serving on the editorial board of the UN's Ocean Opportunities Report.
"If you're company is looking to get more involved, do some research and find out what the infrastructure is out there. For us, it's been great to connect to the (UN) Action Platform for Sustainable Ocean Business – and the great thing is that they have additional platforms for other business sectors."
Critical to success, Jeffries noted, is that companies cultivate a genuine culture of enthusiasm around sustainability. By connecting passion with expertise, companies can better engage in transnational sustainability initiatives.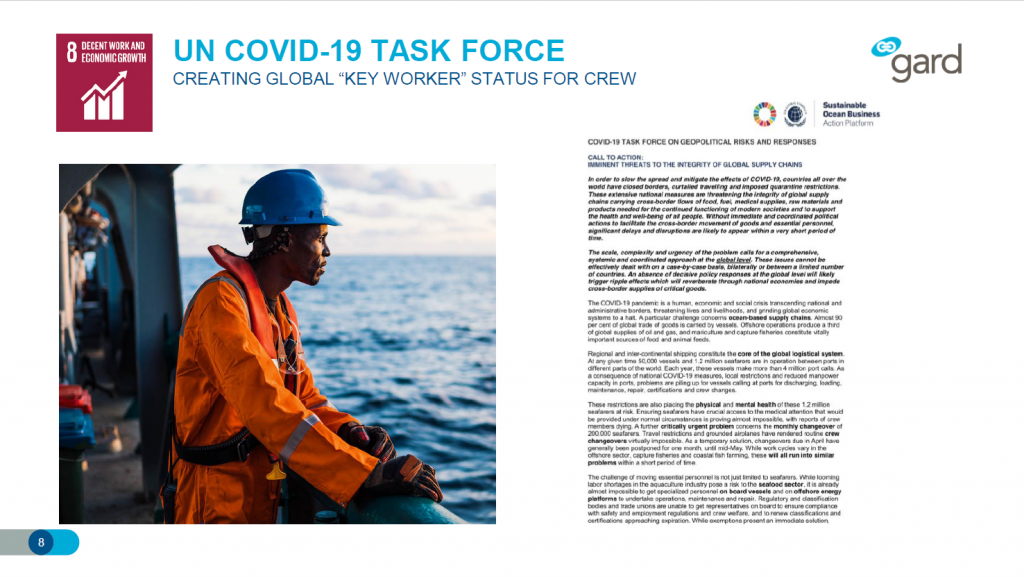 "One lesson we at Gard have learned is that its important to have expertise within the company, and you also need to reach into your organization and find those employees who are passionate about sustainability…and give them space and support. Make it a part of the job and consider it a part of everyone's job."
To conclude, Jeffries shifted her focus to Gard's local, youth-focused sustainability initiatives such as Gard Our Oceans. For her, the dialogues and sense of community engagement fostered by such initiatives represent a valuable opportunity to learn from youth – lessons that can then be taken back to the company.
"Many of the young people we work with know a lot more about environmental practices and the importance of climate change than we do as adults, and we can learn a lot of them through initiatives such as Gard Our Oceans. In fact, this really gives me hope for the future."
Make It a Part of the Job – and Consider it a Part of Everyone's Job
Daniel Skjevik-Aasberg, who served recently as Unge Høyre's First Vice President in addition to his role as political advisor for the party's parliamentary committee for labor and social issues, followed Jeffries, drawing upon his 10 years of youth political experience to discuss issues such as private-public sustainability collaboration, engaging youth, and collaborating with environmental organizations.
To begin, Skjevik-Aasberg noted the importance of financing green innovation and climate friendly business projects, touting organizations such as Enova, Innovation Norway, and Nysnø for playing crucial roles in providing the partnerships and capital necessary to build a sustainable future.
"One of the most important measures we can take is to ensure enough capital for green investments on a long-term basis. That will help accelerate green innovation, particularly in terms of public-private projects, such as the Longship and Northern Lights projects, as well as the Tampen Hywind project with Equinor."
He also noted the importance of working not just at the national level to develop public-private sustainability initiatives, noting that there is an abundance of collaborative opportunities at the municipal (kommune) and country (fylke) level.
From there, Skjevik-Aasberg discussed how businesses can better engage youth and environmental organizations, noting the truly incredible impact these stakeholders can have in concert with business.
"We love meetings!" he proclaimed, noting that inviting youth politicians and other youth groups to companies via meetings, "sustainability days," and sustainability forums can spark engaging dialogues, raise awareness about corporate sustainability efforts, and even lay the foundation for collaborative projects.
Collaborative projects featured prominently in Skjevik-Aasberg's tips for better engaging environmental organizations, where the expertise of environmental organizations and the technical competence of companies can come together to build scalable solutions with a lasting impact.
To conclude, Skjevik-Aasberg reminded forum participants of the tremendous influence companies, youth, and environmental organizations can have when they work together.
"Companies and the climate movement, when they combine forces, can greatly influence government policy…I think it's better for businesses to use the engagement of environmentalists in a more constructive and productive way, developing new projects and furthering innovations."
About the Sustainability Forum
Many AmCham companies have been on the sustainability journey for some time, while others are trying to find their way to a sustainable future. Though our members are represented through the full spectrum, we know that several are at the forefront within their respective industries.
Hence, AmCham brings select, cross-industry member company representatives together on a quarterly basis to discuss opportunities, share best practices and find out how AmCham members can play a role in the Norwegian sustainability agenda going forward. Read more about our Sustainability forum here, and please contact us for interest in future forums at amcham@amcham.no.