"AmCham is doing a remarkable job for our Embassy here in Norway and for trade between our two countries," US Ambassador Kenneth J. Braithwaite said as he hosted our annual, fully-subscribed Members' Reception at his home, Villa Otium.
"We had a very successful event together at ONS, discussing advanced US energy technologies, we have initiated a new leadership development program, the Rising Leaders. AmCham and the US Embassy is a match made in heaven," the Ambassador said before introducing AmCham Chairman of the Board and Country Head of Citi in Norway, Pål Rokke.
"Citi is proud to have been a member of the American Chamber of Commerce in Norway since 1997. In fact, Citi plays an active role in 26 AmChams across Europe," Rokke said, before highlighting AmCham's expanding US-Norway business initiatives within Sustainability, our Rising Leaders program, the Mentorship Program, the coming Thanksgiving Charity with Trade Minister Isaksen, and spring 2019 joint Digital Strategy initiative with Harvard Business School.
Straight No Chaser
A welcomed addition to this year's event program was the performance of the visiting US a capella group, Straight No Chaser.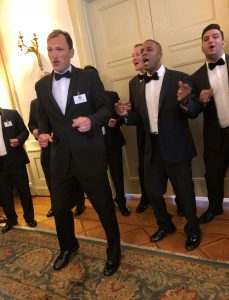 The group, which is currently touring Norway with performances in Arendal and Drammen, performed a three-song medley before singing an inspired version of the Star-Spangled Banner.
Please see the video on our Facebook page HERE.
We wish to thank the Ambassador and the US Embassy for excellent continued cooperation, members Strøm and Vinarius for the delicious California and Washington State wines served, and all members and partners in attendance.