A record 90 players enjoyed spirited competition in the quest for the coveted Søderstrøm Cup and flights from Icelandair, with Team US Embassy trumping 22 other flights to claim AmCham's 17th annual Golf Tournament title.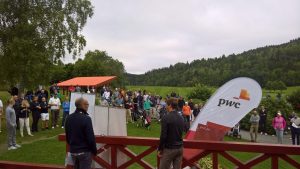 In one of the closest Texas Scramble tournaments yet, with only six strokes separating eighth and first place, the trio of Walter Grant, James Peura and Jan Søderstrøm managed 18 under par at AmCham's first ever tournament at Bærum Golfklubb, which eventually saw Jan Søderstrøm fittingly lifting the trophy that is named after him.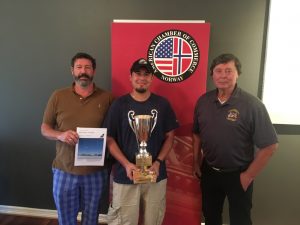 The competition, in accordance with AmCham tradition, also included individual prizes. Morten Haukedal claimed the 'Closest to the Pin' award, winning a Tesla weekend and overnight stay at Tesla's Destination Charging-partner hotel Losby Gods, after landing an impressive 1,75 cm from hole 10. André Keane and Vibeke Elgborn received American wines for achieving the longest drives on hole 15.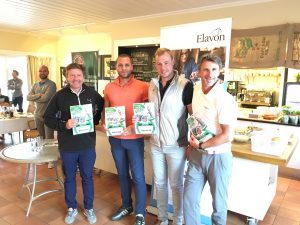 The putting competition, where each player gets a chance to sink a challenging put, rounded off the day after the dinner and awards ceremony. 10 players reached the final, competing for a dinner and shuffleboard evening for ten people at Hard Rock Cafe. As last year, the putting competition participants experienced increasingly heavy rain, but eventually Christoffer Nilsen from Team Tesla captured the coveted gift card.
Generously sponsored by Elavon, Google, and PwC, the AmCham Golf Tournament continues to grow in both size and popularity, with 27 member and partner companies competing in this year's contest.
Team Oracle II, who earned second place overall, won gift cards courtesy of Hotel Continental, with Team Tesla winning a Lofoten fishing and hiking excursion provided by XXLofoten for their third place finish. Team GE Oil & Gas and Team Global Blue landed fourth and fifth place respectively, netting green fees courtesy of Google and PwC, with Team GE Oil and Gas also leaving Bærum Golfklubb up one Google Chromecast each.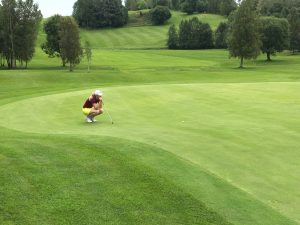 We would like to thank all participants and sponsors for their sportsmanship, enthusiasm and generosity as one of the country's largest corporate golf tournaments would not be a reality without you.
Please also check our Facebook page for additional pictures!
In addition to this year's lead sponsors, we would also like to thank our following partners for their generous product support:
Coca-Cola – Hotel Continental – XXLofoten – Tesla – Hard Rock Cafe Oslo – Icelandair
Final Results:
Team US Embassy
Team Oracle II
Team Tesla
Closest to pin:
Morten Haukedal (Team Global Blue)
Longest Drive:
André Keane (Keane to Golf)
Vibeke Elgborn (Team Burson-Marsteller)
Put-Off:
Christoffer Nilsen (Team Tesla)