AmCham rounded off a successful second year of our popular Mentorship Program, with OsloMet Rector Curt Rice presenting on lifelong learning, professional development and cooperation. Arne Norheim, Country Manager at IBM Norway, hosted the session and provided an exclusive tour of the technology giant's new Norway headquarters.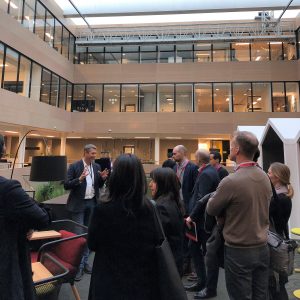 Initiated in February 2017, the second edition of the Mentorship Program included directors and their designated colleagues from 3M, AIG, AmCham, Bristol-Myers Squibb, British American Tobacco, Citibank, Google, IBM, KPMG , MSD,  Radisson Hotel Group and the US Embassy.
The aim of the mentorship program is to make better leaders of all participants. Mentees develop improved decision-making and leadership skills and gain new perspectives by meeting executive leaders with years of experience. Mentors access cross-industry insight and inspiration from the leaders of tomorrow.
Digitalization & Lifelong Learning
As mentoring is a defining ingredient in lifelong learning, Curt Rice – one of Norway's biggest advocates for professional development – fittingly covered several important aspects.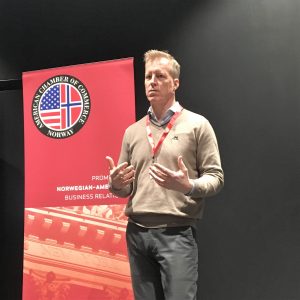 "In a rapidly changing business landscape, it is vital for Norway that its educational institutions and companies are able to develop. Educational facilities need to be far ahead to provide programs ensuring that students are ready and qualified for the job market, while companies are dependent upon keeping employee skills relevant."
"Digitalization and lifelong learning are vital factors to ensure continued development," Rice said.
 Company Collaboration
Announced in 2017, IBM and OsloMet are joined in a collaborative project focused primarily upon IBM's Watson cognitive technology.
The partnership addresses several aspects in both today's market as well as Norway's future workforce needs. Students and OsloMet faculty members will gain valuable technological competence through projects and assignments designed by IBM, a collaboration praised by both Rice and Norheim, as program participants toured IBM's new headquarters.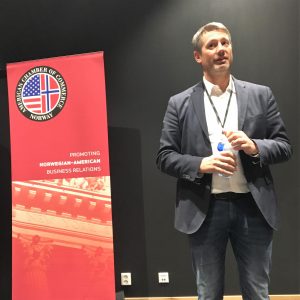 Designed to increase teamwork and flexibility, the new office space and  Innovation Center will help foster company cooperation and enable innovation.
2018-19 Mentorship Program
Based upon the success of the first two Mentorship Programs, AmCham is now planning the third edition. With many of the 2017 participating companies returning, we are looking forward to continuing this unique assembly of international leaders and designates.
The 2018-19 program is currently open for all AmCham Patron-level members. Please contact Katja Dahl Murphy (kdm@amcham.no) for additional information and registration.