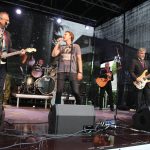 Diplomatic Immunity, starring H.E. Artur Wilczynski (Canadian Ambassador/drums), Chargé d'Affaires Jim DeHart (US Embassy/guitar & vocals), Randy Stocker (Canadian Embassy/rhythm guitar), Ørjan Tverbakk (Pioneer Punk Rocker/bass), Erik Skøld (actor/vocals) has another public performance approaching! All ticket sale proceeds will go to S.T.O.L.T., a local charity that provides support to minority and immigrant youth to complete their educations and develop useful life skills.
Additional information can be found at the Herr Nilsen website, where you can purchase tickets (100 NOK). Tickets are selling fast!
Diplomatic Immunity will also perform at the Oslo Pride Festival on Saturday, July 1. See you there as well!