< Back to all news
Digitalization Forum
AmCham
Date posted: 12.06.2017
Category: AmCham News
"If you ask people what they want, they'd all say faster horses." With the famous Henry Ford quote, one forum participant referenced a key challenge of digitalization; that companies and customers do not know what they want or need, mainly due to a lack of understanding of the business potential represented by true digitalization.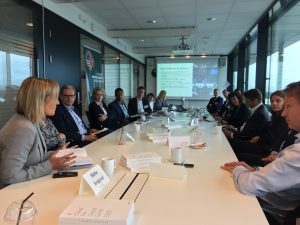 The discussion went on to identify specific ways of how to start implementing and introducing digitalization – from improving education, engaging customers and learning what they need, and for companies to initiate smaller projects and slice digitalization initiatives into bite-sized pieces to start the process.
Second Installment
Twenty invited AmCham member company leaders participated as Microsoft hosted the second edition of the quarterly Digitalization Forum roundtable discussion in late May, with special guest and labor party parliament member Marianne Aasen, discussing public sector digitalization experiences and initiatives.
Host Kimberly Lein-Mathisen, Microsoft Norge's General Manager, started the roundtable discussion with a talk entitled "the impact of digitalization on employees and leaders: building trust and engagement."
Subsequent discussions related to motivations for digitalization as related to customers, before Marianne Aasen discussed how educational challenges and infrastructure are two vital factors for continued digitalization development in the public sector.
Public Sector Experience
According to EU's 2017 Digital Economy and Society Index (DESI), Norway is the second most advanced digital economy in Europe. The AmCham forum was thus established to discuss cross-industry opportunities and implementation strategies to ensure continued growth.
Aasen also emphasized the importance of gaining knowledge and the need to understand the concept to ensure that people are not fearing the technological revolution.
Other key public sector observations included:
– Education is a big challenge: how do we ensure the educational system keeps up with the pace? It is a slow system to change, particularly difficult, as tech is a high-paced field. Lifelong learning is key.
– NAV's CIO Torbjørn Larsen was given accolades by group as forward-thinking public-sector champion ("find the path forward!")
– Jonas Gahr Støre's initiative to set up special advisory board is possibly also an idea for corporate boards as often those who understand new technologies do not have boardroom experience
– Grid optimization
– Addressing citizen services
Implementation
Discussing implementation of digitalization within companies and governmental organizations, collaboration with partners, industry leaders and politicians was deemed essential to providing customers and citizens what they want and deserve. Observations included:
– That it is more important to have a willingness to learn than to be an established digital leader
– That companies need catalysts to fully implement digitalization – three out of ten on a team are needed to drive change.
– Boards often struggle or don't know technology sufficiently and are not used to assessing company leadership according to such criteria.
– Digitalization initiatives are often in the CEO's blind spot – they need people with an external view.
– Employees need to be empowered.
– Engage partners to co-work solutions.
– Engage customers – and know them well through increased contact.
– Introduce small projects internally to get some wins- as a start. Combine running business "as usual" while exploring new revenue streams.
– Explore ways of combining hiring internally and externally to ensure new ideas and qualities are brought in, while maintaining company values.
– CEO's are starting realize they need to look at technical implementation differently. There is a general concern on "how to get started" – advice could be to start small and explore, and to perfect those small projects before moving forward. Digitalization, it was agreed, is a journey, taking 3-5 years for old habits to disappear and to gain profit on implemented digital projects. Starting from scratch today, full digitalization is 5-10 year project was the consensus.
– In the past few months, there has been recognition by Norwegian companies that we have to do things differently.
The AmCham Digitalization Forum is a cross-industry, quarterly roundtable discussion aiming to serve as a platform upon which AmCham's diverse membership can share perspectives on how digitalization is affecting respective industries.
Source: AmCham
Published: August 17, 2017